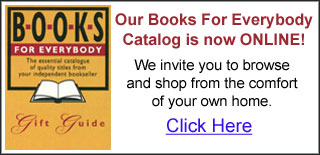 Hold, Reserve, or Order books all from the comfort of your home or office.

Use our TitleLink search engine to find books of interest. You can tell what?s in stock, on order (Coming or Forthcoming), or what we can quickly obtain. Use "My List" to create your selection and then "View My List" and "Proceed to Checkout", which really just sends your request to us. Then wait for an email or phone call to confirm that everything is in order. Your books will be set aside at our bookstore ready for pickup the next time you're downtown.
It's easy and you don't have to pay until you pick up your books!

In addition to in-store pickup we ship books to almost anywhere.
Mac's Fireweed Books is a proud, independent bookstore and a Whitehorse institution. Mac's has a terrific selection of books and newspapers from all over the world.

If you're ever driving by, please stop in!

Our store carries the best magazine rack north of 60? and a complete selection of books and general bestsellers specializing in Northern titles, Canadian Literature, First Nations books and Children's books. And, of course, the best staff around to take special orders and give gift suggestions!
Also make sure to visit our Antiquarian Bookroom featuring out of print titles specializing in Northern and Polar History, Exploration, Mining, and the Klondike Gold Rush as well as featuring well known authors such as Pierre Berton, Jack London and Robert Service. You can also browse our out of print books online at Yukon Books.

As well, we are the Yukon Territory topographic maps distributor and have a complete selection of Yukon Maps and Yukon Travel Guides. So if you are planning to visit us, make sure to also visit our specialized website; Yukon Books, where you will find books, maps and guides that cover the history, people, geography and everything you need to know about the Yukon.

If you have any questions make sure to call us:
Toll Free (US & Canada):1-800-661-0508
International: 1-867-668-6104
Local (Whitehorse): 668-6104
Fax: 1-867-668-5548

Or